Ladies Night Out
March is National Women's Month, and Friday, March 8th is a National Women's Day. Wouldn't it be great to celebrate all of the fabulous women of Bethalto and beyond with a fun night out? We thought so too! This event will take place in the area of Prairie and Central form 6:00 - 9:00pm. The Senior Citizens Building will house a vendor fair, the Community Room will host safety and defense demonstrations and any business that wishes to participate will have a booth. Please mark your calendars for this fun and interactive event. Make sure to bring your cash, because there will be food, drinks, and items available for purchase. If you are a vendor who would like to have a free booth in the Senior Citizens Building, contact the library for more information. Please note, Bethalto businesses will have priority for vendor booth space.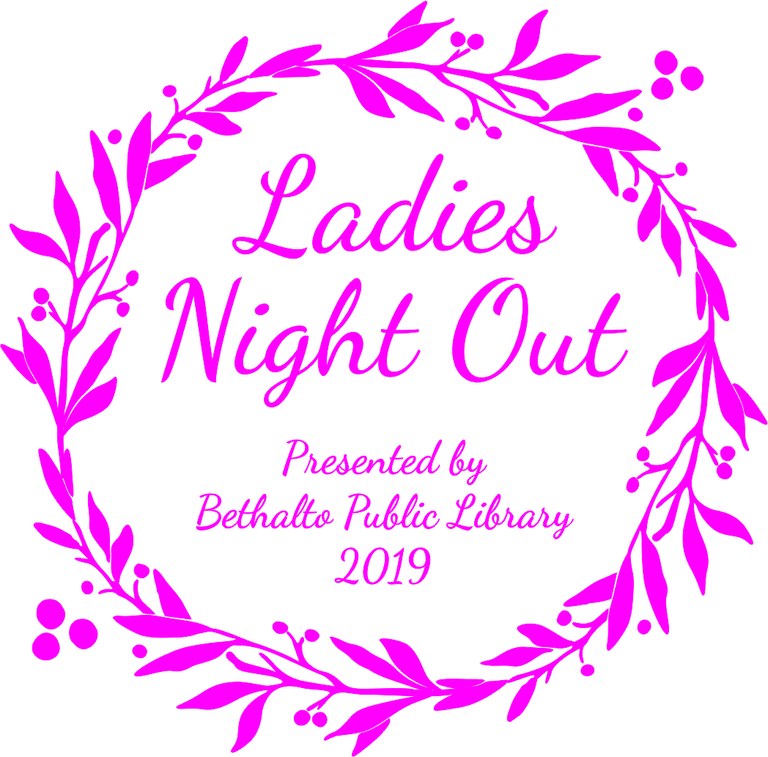 BUSINESSES

VENDORS

Laux Brickhouse -  Dinner Special Filet Mignon with a potato and side                                      salad for $14.95.

                                  Drink Specials flavored vodka drinks for $3.00 and                                     a $3.00 glass of wine.

The Islands

Sweet Ashley's Cottage

Bethalto Care Center

The Nurses' Station

Get Logo'd

Belleville News Democrat

Community Hope Center

Illinois Insurance

Cindy B. and Barb C.: Floral Crafts, Primitives, Upcycling

Swanky Additions: Bowties, Wristlets, Earrings, Scrunchies, Headbands Make-up Bags, etc.

Na'imah's Creations: Handcrafted jewelry and accessories made from natural materials

Resin Bliss: Handmade Resin Jewelry

Terri L.: Initial Art

Michelle R.: Crochet Animals, Crochet Blankets, etc.

Becky G.: Scentsy

Beauty of Things: One of a kind necklace and earring sets, Rings, Mini fairy gardens

Kristin S.: Usborne Books and More

Kimberly G.: Paparazzi Accessories

Bev E.: Tupperware

Marci T.: Infinity Spa and Nana's Kitchen Mixes

Katie R.: Limelise by Alcome

Toni M.: Waywalkers

Gail H.: Reflexology

Shelly M.: Safe Hearts

Mary H.: Handcrafted Jewelry and other crafts

Tammy F.: Avon Representative
MORE TO COME SO CHECK BACK OFTEN!